Get Involved
Learn more about the landscape and heritage through walks, talks and other events. Volunteer to help at events, to carry out surveys or practical conservation tasks. Become a champion for the National Landscape by raising awareness in your own community and by supporting local projects.
Hincaster Trailway Group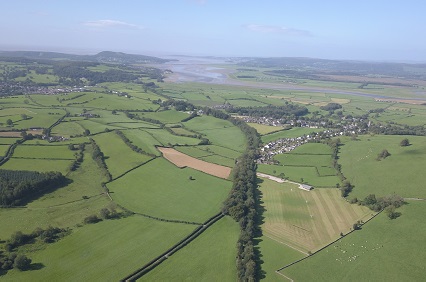 The railway line from Arnside to Hincaster (lying just outside the AONB) was in use from 1876 but like many small uneconomic lines it was closed and the rails removed in the Sixties.
Thanks to Dallam Tower Estate, part of the old line now forms the popular embankment walk from Arnside to Sandside but it wasn't until 2008 that the Hincaster Trailway Group was formed to develop the other end of the line into a community resource. The rich diversity of plants, insects and birdlife now found there is testament to a huge volunteer effort.
With money from the National Heritage Lottery Fund, the Group has just completed the 'Trailway Histories project' which involved collecting personal memories of the railway line – as a working railway before 1962 and up to the present day. 
To find out more about their work and how you can get involved, visit www.hincastertrailway.co.uk
Photo: Aerial view © Land & Sky Media