News
Stunning limestone pavements, ancient woodlands, intimate orchards and meadows and an impressive coastline make Arnside & Silverdale Area of Outstanding Natural Beauty one of England's finest landscapes. The work of the AONB Partnership aims to conserve and enhance this extraordinary place now and for the future.
We've been going WILD!
June 27th, 2017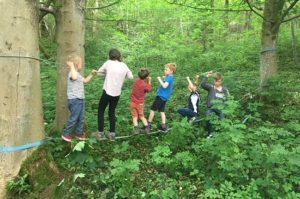 The sun joined us for both of our WILD! family days during May half term. Brilliant butterflies saw a group of young explorers join Martin Wain of Butterfly Conservation for an expedition on Warton Crag. We spotted Pearl Bordered Fritillaries, Painted Ladies, lots of moths and Orange Tip butterflies, eggs and caterpillars before meeting local textile artist Gillian Slater in the fairy glade to make fantastic printed butterfly flags to take home.
Around 110 people joined us for our Woodland Family Fun Day in Dobshall Wood, Arnside. Our partners for the day, Stomping Ground, set up a fantastic range of activities, from slacklining to fire lighting; mud kitchen to den making; leaf pressing to habitat building. After a picnic lunch around the fire (with a much needed cup of tea for all the grown ups!), the children had the chance to make popcorn and pancakes on the fire as the other activities continued in the wood.
The feedback from attendees was fantastic: 'Wonderful day – well done!', 'Excellent activities today!', 'Great event thank you :o)', 'Keep at it!' Passing woodland visitors said they loved hearing the sounds of children enjoying themselves.