News
Stunning limestone pavements, ancient woodlands, intimate orchards and meadows and an impressive coastline make Arnside & Silverdale Area of Outstanding Natural Beauty one of England's finest landscapes. The work of the AONB Partnership aims to conserve and enhance this extraordinary place now and for the future.
Volunteer update
August 2nd, 2017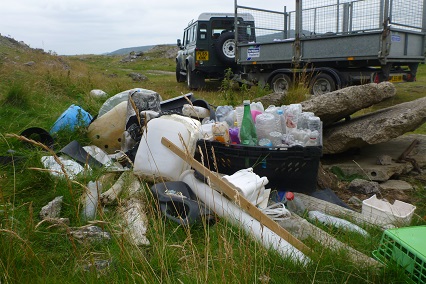 Our volunteers have been dodging the showers recently to get out and help look after our beautiful countryside.
Last week they joined forces with the Arnside & Silverdale National Trust volunteers on a mega litter pick. 40 bin-bags of non-recyclable waste, 8 bin-bags of recyclable waste, wooden items, hard plastic items and two old tyres were collected along the River Keer estuary.
It was hard work but they were rewarded with magnificent views, carpets of Wild Thyme and other wildflowers, Grayling and Small Tortoiseshell butterflies, and birds including Common Sandpiper, Dunlin, Eider, Linnet, Little Egret, Wheatear, Meadow Pipit and even an Osprey!
Thanks to everyone who took part – it was a magnificent effort!