News
Stunning limestone pavements, ancient woodlands, intimate orchards and meadows and an impressive coastline make Arnside & Silverdale Area of Outstanding Natural Beauty one of England's finest landscapes. The work of the AONB Partnership aims to conserve and enhance this extraordinary place now and for the future.
Landscape grant preserves heritage barn for years to come
October 20th, 2016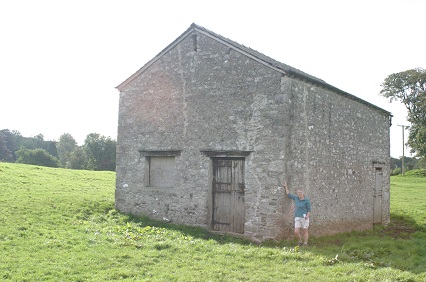 The very first applicant to the Arnside & Silverdale AONB Grants Fund has completed the renovation of a rare field barn ready for the winter. The Lambert Family was granted £790 for work on the Row Hulls, the only surviving field barn in Silverdale, which probably dates from the mid to late 19th century.
The work, carried out by local builder Chris Burrow, included the installation of a wall tie to stabilise the lower wall, new guttering to prevent further water damage, replacement slates and repairs to cracks in the walls.
Jane Lambert said: 'The barn is a working building, and in the past has housed cattle, sheep and turkeys at ground floor level, and stored hay from adjoining meadows in its loft. Field barns are common in the Yorkshire Dales, but very rare in Arnside & Silverdale AONB. It's wonderful to go into this winter with the barn watertight. I'd like to thank the grants fund for enabling us to secure it for future years.'
Fiona Allan, chair of the Arnside/Silverdale Landscape Trust said: 'I'm so pleased that the grants fund has been able to help such a fantastic project. The renovations have made such a difference to the way the barn looks, but more importantly to its structural soundness, preserving it for years to come.'
Lucy Barron, Arnside & Silverdale AONB Manager said: 'The barn has been a significant feature in the Silverdale landscape for possibly 200 years, and is earmarked for inclusion on the local list for Arnside & Silverdale AONB – a list of important landscape and heritage features which contribute to the character of the AONB. We're very proud to have been able to play a role in its preservation.'
The Lambert family are going to continue to maintain and improve the barn – retaining and restoring its heritage features, such as a manger with diamond shaped spindles and original loft ladders. An owl box will be installed soon, which will hopefully become home to a barn owl in the coming months, and small gaps have been left for swallows to come in and out and build their nests inside the barn.
The Arnside & Silverdale Area of Outstanding Natural Beauty Grants Fund is run by Arnside & Silverdale AONB Partnership and the Arnside/Silverdale AONB Landscape Trust, working together. Grants of up to £2500 are available to enable projects which conserve and enhance the AONB or connect people with the landscape. More information is available on the Grants Fund page.