News
Stunning limestone pavements, ancient woodlands, intimate orchards and meadows and an impressive coastline make Arnside & Silverdale Area of Outstanding Natural Beauty one of England's finest landscapes. The work of the AONB Partnership aims to conserve and enhance this extraordinary place now and for the future.
Help create a giant heart on Arnside Knott
September 11th, 2019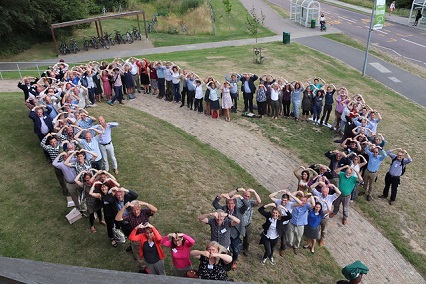 On Saturday 21 September, from 1pm, we need your help to create a giant heart on the northern slopes of Arnside Knott. The heart will form part of a 'National Moment' to celebrate 70 years since parliament passed the pioneering legislation which led to the creation of AONBs.
We're really lucky to have been chosen as the host AONB for the Poet Laureate Simon Armitage, who will be reading a poem specially commissioned to mark the anniversary. All attendees will get a special commemorative copy of the poem to take home.
If you'd like to come along, please arrive no later than 1pm at the top of Redhills Pasture on the North Eastern side of the Knott.
There is no parking onsite, so please enjoy a walk to reach us! The event will be filmed for use on social media and our website. Regional and national media are being invited too, so by attending, you are consenting to yourself and any children you bring with you being filmed and/or photographed.
Please wear something to reflect your role; if you are an artist you could bring a paintbrush to wave, mechanics in overalls, hikers in boots and backpacks and children in school uniform or scouts/brownie outfits. We really want to reflect the range of people who love our landscape.
The 'National Moment' kicks off a week-long celebration of UK AONBs called Landscapes for Life Week (L4L Week), and events will be held across the UK, giving people the chance to enjoy their local AONB (66% of the UK population live within 30 minutes travel time of an AONB, so they really are the UK's local nature reserves).
The heart signifies our love for our precious designated landscapes and the health benefits being in nature brings. AONBs across the country will be joining in, tweeting and sharing heart images on social media with the hashtags #NaturalHealthService and #LoveL4L.
We look forward to seeing you!
For further information contact the AONB office on 01524 761034 or email info@arnsidesilverdaleaonb.org.uk