News
Stunning limestone pavements, ancient woodlands, intimate orchards and meadows and an impressive coastline make Arnside & Silverdale Area of Outstanding Natural Beauty one of England's finest landscapes. The work of the AONB Partnership aims to conserve and enhance this extraordinary place now and for the future.
Hedging success!
November 16th, 2016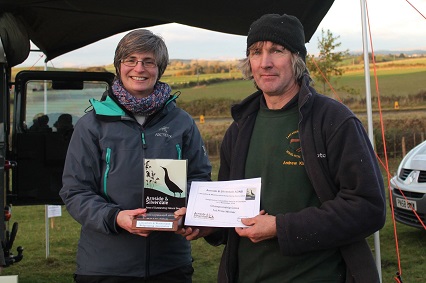 Congratulations to Andrew Kirkwood who won both the Championship Class and Best Hedge of the Day at the recent AONB Hedgelaying Competition which took place in Beetham, with kind permission of Mr John Fishwick of Beetham Hall.
We were delighted to welcome 18 competitors to the first of the Lancashire & Westmorland Hedgelaying Association Grand Prix events for 2016/17.  Each competitor was required to lay between 6 and 8 metres in the traditional Westmorland style, with their efforts being judged by Donald Wilkinson and Henry Kirkwood.
There was also a chance for complete beginners to have some training and it was great to see two youngsters, Josh Atkinson and Jake Dixon, come along to learn about this traditional rural craft.
The full results are listed below:
Championship Class:
1st Andrew Kirkwood;  2nd Ralph Lee;  3rd Peter Gibson
Open Class:
1st William Hodgson; 2nd Craig Procter; 3rd John Gibson
Novice Class:
1st James Haigh; 2nd Aiden Handley; 3rd John Handley
Junior Class:
1st Danny Hodgson; 2nd James Dodgson; 3rd James Yates Bell
Best Hedge on the Day:
Andrew Kirkwood
The AONB Hedgelaying Competition is part of our wider annual programme of training and events to support and promote traditional rural skills. Traditional hedgerows and drystone walls are an important part of our cultural heritage and history and they are  characteristic features in  the landscape. Whilst their primary function  is to enclose land and livestock,  provide shelter for crops  and animals and prevent  soil erosion, they are also  very important for wildlife.