News
Stunning limestone pavements, ancient woodlands, intimate orchards and meadows and an impressive coastline make Arnside & Silverdale Area of Outstanding Natural Beauty one of England's finest landscapes. The work of the AONB Partnership aims to conserve and enhance this extraordinary place now and for the future.
Hedgelaying success
November 27th, 2017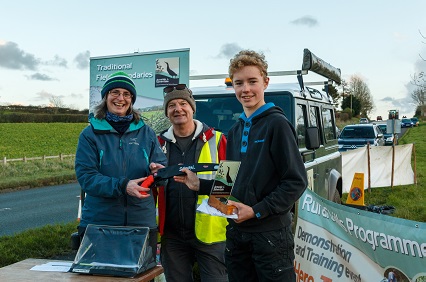 The Arnside & Silverdale AONB Partnership was delighted to  be chosen to organise and host the first event of the Lancashire & Westmorland Hedgelaying Association Grand Prix 2017-18.
Seventeen competitors gathered in the field by Beetham Hall on a cold but bright November morning to take up the challenge of laying a section of hedge in the traditional Westmorland style. With the help of bill-hooks, loppers and chainsaws, the new-laid hedge soon began to take shape and it was then up to Martin Robinson and Donald Wilkinson to judge the various classes.
The results were:
Junior Class: 1st James Yates-Bell. 2nd James Dodgson. 3rd Jake Dixon.
James Dodgson (pictured alongside Lucy Barron, AONB Manager, and Tony Riden, AONB Countryside Officer) was also awarded the Samurai Saw Prize donated by Jon Oliver of Samurai Saws Ltd UK.
Novice Class: 1st Aiden Handley. 2nd James Benson. 3rd Danny Hodgson.
Open Class: 1st John Handley. 2nd William Bell. 3rd Steven Boyes.
Championship Class: 1st Peter Gibson. 2nd Craig Proctor. 3rd Andrew Kirkwood.
Best Hedge on the Day: Awarded to Peter Gibson (Championship Class).
Best Regrowth: (2016 hedge) Awarded to James Dodgson (Junior Class).
Congratulations to all who took part and special thanks to the landowner, Mr J Fishwick, for allowing the competition to take place and to our volunteer Liz Withey for coming along to take photographs of the event.