News
Stunning limestone pavements, ancient woodlands, intimate orchards and meadows and an impressive coastline make Arnside & Silverdale Area of Outstanding Natural Beauty one of England's finest landscapes. The work of the AONB Partnership aims to conserve and enhance this extraordinary place now and for the future.
All change at Gait Barrows
June 27th, 2017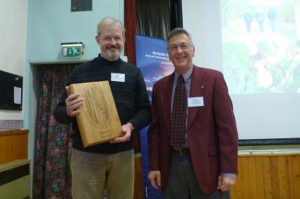 We'd like to wish a very fond farewell to the recipient of this year's Arnside & Silverdale AONB Bittern Award Rob Petley-Jones. After managing Gaits Barrows National Nature Reserve for the past 25 years, Rob is retiring this month. Rob was instrumental in bringing the lady's slipper orchid back from the brink of extinction, and has enabled hundreds of people to see them in bloom. He also helped set up the Morecambe Bay Butterfly Action Group – a wide partnership of nature conservation organisations and major landowners working together to protect the High Brown Fritillary and Duke of Burgundy butterflies. Our very best wishes to Rob for his retirement.
Many congratulations to Glen Swainson, the new manager of Gait Barrows, who has worked as a SSSI/Agri-environment adviser in the AONB and South Cumbria for Natural England for the past eight years and knows the Gait Barrows site very well. There are a few exciting projects coming up at the NNR and we will be sharing information on this in a special Gait Barrows edition of the AONB e-newsletter in July.