News
Stunning limestone pavements, ancient woodlands, intimate orchards and meadows and an impressive coastline make Arnside & Silverdale Area of Outstanding Natural Beauty one of England's finest landscapes. The work of the AONB Partnership aims to conserve and enhance this extraordinary place now and for the future.
AONB inspires local artists
May 24th, 2017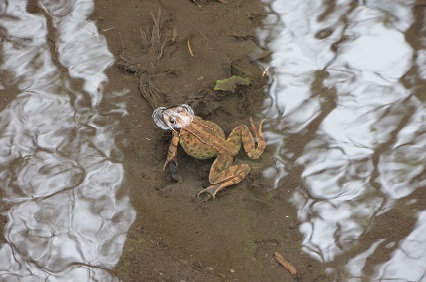 The annual Art & Craft Trail is a major event in the area and will this year run from Friday 23rd – Sunday 25th June. With Open Studios, large group exhibitions and many workshops it provides something for everyone. The Trail attracts an increasing number of high quality exhibitors every year, many of whom live and work within this extraordinary AONB, famous for its amazing wildlife, stunning scenery and superb walks.
As part of the Trail, the Landscape Trust will be staging an exhibition entitled "Underwater Morecambe Bay" at Arnside Cemetery Chapel. Come along and enjoy Gordon Fletcher's amazing underwater photography and marine sculptures.
Pick up a catalogue, price £2, and start planning your route!
For further info visit http://www.silverdalearttrail.co.uk/
Photo: 'Frog' by Ian Service – an entry in the recent Landscape Trust's Photographic Competition