What We Do
We work in partnership and aim to achieve • an outstanding landscape, rich in wildlife and cultural heritage • a thriving, sustainable economy and vibrant communities • a strong connection between people and the landscape
Gateway to Warton Crag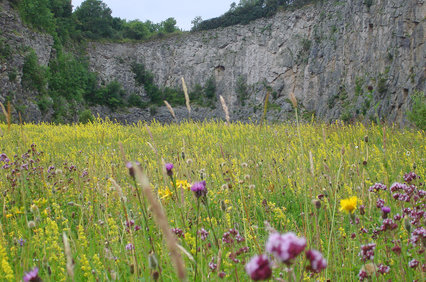 The AONB Team is currently helping to deliver a project which will see
improvements to the Main Quarry car park at Warton Crag
a wide habitat management programme
the development of a "Friends of Warton Crag" volunteer group
improved visitor information and interpretation of the reserves
The main quarry car park is a key arrival point for those visiting the Crag which is highly valued for its exceptional wildlife, geology, and heritage and of course the impressive views over Morecambe Bay. The rich mosaic of habitats supports a range of plants, birds and butterflies including the nationally rare High Brown Fritillary. The cliffs of the quarry are a nesting site for Peregrine Falcon as well as Raven.  Last year a study was completed by Historic England and Morecambe Bay Partnership on the scheduled monument at the top of the Crag resulting in it being reinterpreted as a Bronze Age hill top enclosure and further research may follow.
There is so much to discover on Warton Crag, and we hope that through this project we can inform and engage further with our visitors and local community.
The project is being funded by a grant of £30,000 from the Lancashire Environmental Fund, Lancashire County Council and  the AONB Partnership .