What We Do
We work in partnership and aim to achieve • an outstanding landscape, rich in wildlife and cultural heritage • a thriving, sustainable economy and vibrant communities • a strong connection between people and the landscape
Dementia-friendly walks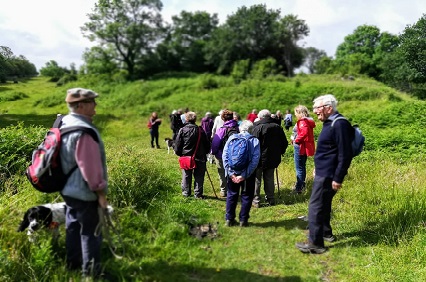 The AONB Team has just completed a pilot project which saw a weekly programme of short guided walks for people living with dementia and their carers, offering them the opportunity to be able to continue to enjoy our beautiful landscapes, wildlife and culture and to benefit from the support of walking with others.
Thanks to funding from Morecambe Bay Partnership, we have been able to offer specialist training by the charity Dementia Adventure to volunteer walks leaders and the project was launched with our first walk on Tuesday 23rd April 2019. The walks took about an hour and there was always a chance for a chat and a cuppa afterwards in one of the local cafes.
This pilot initially ran for 6 months and a full evaluation of the project experiences was undertaken in November. Building on its success, we are currently looking at securing funding to enable the project to continue after a short winter break.
If you would like to volunteer or just to know a bit more about the project, please contact the AONB office on 01524 761034.
Photo: © Dementia Adventure