What We Do
We work in partnership and aim to achieve • an outstanding landscape, rich in wildlife and cultural heritage • a thriving, sustainable economy and vibrant communities • a strong connection between people and the landscape
Bee on the Verge
What: Bee on the verge is an AONB wide road verge and greenspace improvement project.
Who: We are working with Parish Councils, local groups, landowners and residents who have an interest in verges, wildflowers and pollinators. Currently we are working with Arnside Parish Council sub group, and the Women's Institute in Yealand.
Where: The project is working across the AONB on the network of road verges.
When: This is an ongoing project aiming to increase the number of verges under positive sympathetic management in the coming years.
Why: Biodiversity loss has been catastrophic in recent times, with pollinators suffering as a result of loss of habitat and change in land management practices. Road verges provide corridors for movement across the landscape, with the AONB being a key link through the North West of England, highlighted in the Buglife b-line map. Ensuring these habitats are rich with a wide range of wildflowers across the season is key to supporting pollinators and wider biodiversity. The AONB currently manage a number of sites in the area for biodiversity.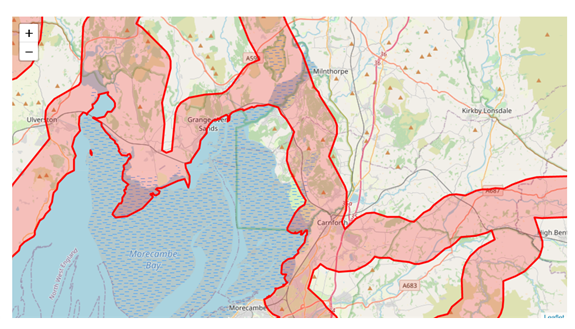 Current Progress
The project has progressed in 2021 with a number of key activities. We have
Identified local groups to work in partnership with
Identified a number of verges/small greenspaces with potential
Surveyed the areas to get a baseline data set of species present
Collected seed through meadow makers and volunteer activities including species yellow rattle, knapweed, eyebright, plantain, meadow cranesbill, betony, birds foot trefoil.
Grown plug plants in partnership with Cumbria Wildlife Trust and Hermitage Field Community Meadow
Carried out volunteer activities to prepare, sew and plug plant the verges
In 2022 we hope to see an abundance of wildflowers on these verges, undertake further surveys and look to improve other areas within the AONB.
Advice: Got a verge or section of grass local to you?
There are a number of useful resources available to assist when improving a verge for pollinators. Plantlife have a Road Verge Campaign and a guide to road verge management
Plantlife's Road Verges Campaign
Plantlife's Road Verge Management Guide
Buglife's Road Verges for Pollinators Report
Also more locally:
Cumbria Wildlife Trust's Get Cumbria Buzzing
And a similar road verge survey report in Nidderdale AONB