What We Do
We work in partnership and aim to achieve • an outstanding landscape, rich in wildlife and cultural heritage • a thriving, sustainable economy and vibrant communities • a strong connection between people and the landscape
Farming in Protected Landscapes
Images: Ella Riden
Protected Landscapes – our National Parks and Areas of Outstanding Natural Beauty – are special and unique places. They are living, working landscapes that also support a huge range of habitats and species, and they are enjoyed by many people every year.  
Defra's new Farming in Protected Landscapes programme will run until March 2025, and is open to all farmers and land managers within Arnside & Silverdale AONB. Through the programme, farmers and land managers will be supported to carry out projects that support nature recovery, mitigate the impacts of climate change, provide opportunities for people to discover, enjoy and understand the landscape and cultural heritage, or support nature-friendly, sustainable farm businesses.  
The funding programme is part of Defra's Agricultural Transition Plan. It has been developed by Defra with the support of AONB and National Park staff from across the country and will be delivered locally by protected landscape teams.  
Here in Arnside & Silverdale AONB, we will be awarding a total of £132,509 in the first year of the programme, between July 2021 and March 2022. Applications for the 2021/2022 award must be received by the 31st January 2022. It is essential that applicants discuss their application with the Farming in Protected Landscapes Officers in the AONB team before applying and at six weeks prior to the deadline. We are inviting applications for grants of between £2,500 and £50,000 per year, and multi-year applications are encouraged.  
FiPL funding cannot be used for projects that are already receiving funding from other schemes (e.g. Countryside Stewardship, LEADER), or for works that you have an existing legal duty to undertake. Should your project receive FiPL funding and subsequently be found to be ineligible for these reasons, the monies received must be immediately returned to Arnside & Silverdale AONB. Grants will be administered through the host local authority Lancaster City Council.
Further information can be found on the Defra website.
For an editable version of the application form please contact us directly.
Read more about the Farming in Protected Landscapes Programme:
If you'd like to register your interest in applying, you can complete the contact form below, email farming@arnsidesilverdaleaonb.org.uk or call us on 01524 761034. 
Contact Form
.
Funded Projects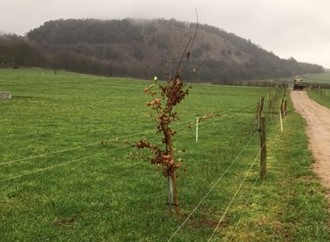 Read More