News
Stunning limestone pavements, ancient woodlands, intimate orchards and meadows and an impressive coastline make Arnside & Silverdale Area of Outstanding Natural Beauty one of England's finest landscapes. The work of the AONB Partnership aims to conserve and enhance this extraordinary place now and for the future.
Trowbarrow Quarry family geology and geocaching walk
March 14th, 2019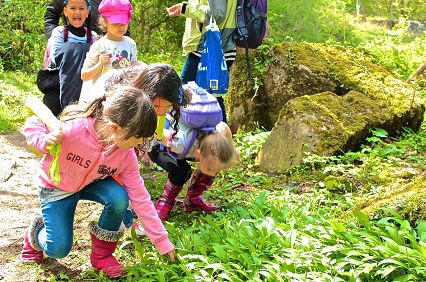 Go WILD! and celebrate GeoWeek with a free gentle walk on paths around Trowbarrow quarry Local Nature Reserve in Silverdale, on Sunday 5 May.
The walk is suitable for all the family, and will last about 90 minutes. We'll see some amazing rocks and fossils and think about how different the climate was here around 300 million years ago. You'll also get an opportunity to try out geocaching, a world-wide outdoor treasure-hunting activity, using a phone GPS to find boxes hidden in the quarry.
The event is being run by Cumbria GeoConservation and Westmorland Geological Society as part of GeoWeek and the Go WILD! in Arnside & Silverdale project.
To book your place email info@arnsidesilverdaleaonb.org.uk