News
Stunning limestone pavements, ancient woodlands, intimate orchards and meadows and an impressive coastline make Arnside & Silverdale Area of Outstanding Natural Beauty one of England's finest landscapes. The work of the AONB Partnership aims to conserve and enhance this extraordinary place now and for the future.
Tramper at RSPB Leighton Moss
June 27th, 2017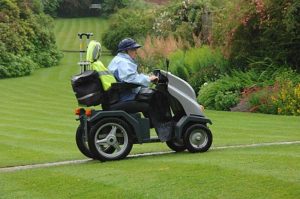 The AONB Tramper, funded by the Arnside & Silverdale Sustainable Development Fund, RSPB, Lancashire County Council, Lancaster and District Ramblers, Arnside Ramblers, Yealand Manor and Leighton Hall is now available at RSPB Leighton Moss. Booking is essential, but the Tramper is free to hire and is available to use by over 14s. The Tramper enables those who may need a little extra help getting around to experience the area's special landscape and wildlife. For more information, see the RSPB's website.