News
Stunning limestone pavements, ancient woodlands, intimate orchards and meadows and an impressive coastline make Arnside & Silverdale Area of Outstanding Natural Beauty one of England's finest landscapes. The work of the AONB Partnership aims to conserve and enhance this extraordinary place now and for the future.
Still more work to be done…
August 9th, 2017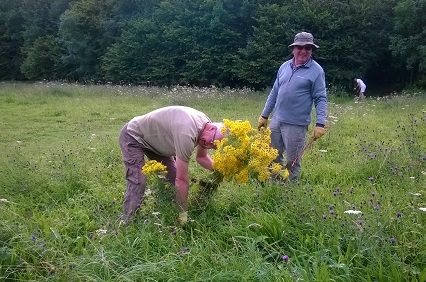 The AONB volunteers were out pulling and removing Ragwort from Dobshall Wood, Arnside yesterday, on behalf of the Woodland Trust.
Ragwort is a native wildflower and good nectaring plant for butterflies and bees, but is toxic to livestock, and spread of the seed should be controlled. While still rooted and growing, livestock will avoid it, but if it is left lying on the ground it does pose a hazard for animals, so must be safely removed.
Thistles and sticky-buds of burdock were also removed from the wildflower meadow but the butterflies and numerous bees still have plenty of nectaring Knapweed and other meadow wildflowers.