News
Stunning limestone pavements, ancient woodlands, intimate orchards and meadows and an impressive coastline make Arnside & Silverdale Area of Outstanding Natural Beauty one of England's finest landscapes. The work of the AONB Partnership aims to conserve and enhance this extraordinary place now and for the future.
Rickshaw Challenge passes through the AONB
November 27th, 2017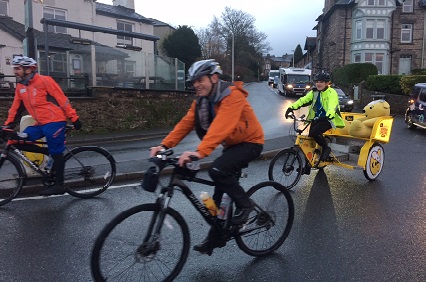 Congratulations to all the youngsters who took part in, and successfully completed, the Rickshaw Challenge for Children in Need 2017.
Undaunted by the undulating terrain and inclement weather, the team, supported by Matt Baker, pedalled their way through Arnside & Silverdale AONB on Day 6 of the 500 mile challenge, taking in Warton, Silverdale, Arnside & Beetham on their way from Morecambe to Penrith.