News
Stunning limestone pavements, ancient woodlands, intimate orchards and meadows and an impressive coastline make Arnside & Silverdale National Landscape one of England's finest landscapes. The work of the National Landscape Partnership aims to conserve and enhance this extraordinary place now and for the future.
Pond dipping at Leighton Moss
April 2nd, 2015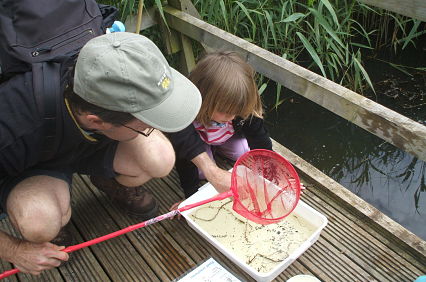 Budding wildlife explorers of all ages are urged to visit RSPB Leighton Moss and Morecambe Bay nature reserve this Easter to uncover a secret underwater world.
From pond snails to whirligig beetles, there are a variety of weird and wonderful creatures waiting to be found in the deep, dark depths of the reserve's pond and families can do exactly that at a 'What lives beneath' pond dipping event on Thursday 2 and 9 April.
Annabel Rushton, Visitor Experience Manager at the Silverdale reserve, said: "While the creatures in our pond may not be as cute as the traditional Easter chicks and bunnies, they are equally as exciting and the pond dipping sessions are a great way to get closer to a variety of fascinating wildlife.
"From wriggly tadpoles to great diving beetles, there are plenty of creatures which call the pond home and both children and adults alike are amazed at what they find – it's a great experience for all ages."
Families can also take part in the Baby Bird Trail, a self-led activity running throughout April. Uncover facts about the reserve's special birds and their chicks on this free trail, which visitors can enjoy anytime between 9.30am – 4.30 pm. Free children's activities will also be on offer in the reserve's Holt room during the Easter holidays.
There are two pond dipping sessions to choose from on both Thursday 2 and 9 April; either 11 am-12.30 pm or 1.30-3 pm. The cost is £5 per child (Wildlife Explorer members £4) and the activity is recommended for children over the age of 5, who must be accompanied by an adult (no charge for adults). Booking and payment in advance is essential, please call the reserve on 01524 701601. Normal admission charges apply to non-members visiting the reserve.
For more details on these events and other activities at Leighton Moss, visit the website rspb.org.uk/leightonmoss.
Photo credit: David Mower