News
Stunning limestone pavements, ancient woodlands, intimate orchards and meadows and an impressive coastline make Arnside & Silverdale Area of Outstanding Natural Beauty one of England's finest landscapes. The work of the AONB Partnership aims to conserve and enhance this extraordinary place now and for the future.
Please vote for us!
October 23rd, 2018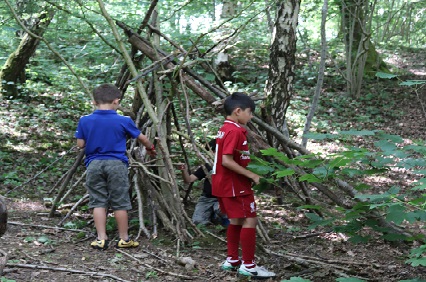 The AONB Partnership has reached the public vote stage of the AVIVA community awards for its WILD! project. Voting opens today – 23rd October – and you have until 20th November to cast your vote. It's really easy to register to get your 10 votes which you can use to support as many projects as you like – spread them around or use them all to support one project – it's your choice!
Winning would enable us to give forest schools teacher training to at least one member of staff in all the schools in the AONB as well as some of the schools in our nearby urban centres; to ensure that all schools have a forest schools classroom on site or within easy reach of school; and to train retired people in the local area to run events for families and children, sharing their skills and knowledge of the outdoors with the next generation.
We know that spending time outdoors is good for mental and physical health as well as helping children to develop problem solving skills, and enabling those children who might not perform well in a classroom situation to have the chance to excel. We think it's so important that teachers have the training they need to help make this happen during the school day. Having a group of enthusiastic trained people to run events will give us the chance to increase the number of events we can provide for families, as well as using their existing skills and creating intergenerational links.
We do hope you feel the project is worthwhile.
If you are interested in finding out more about volunteering to run events for families and receiving full training as part of this project, please get in touch.