News
Stunning limestone pavements, ancient woodlands, intimate orchards and meadows and an impressive coastline make Arnside & Silverdale Area of Outstanding Natural Beauty one of England's finest landscapes. The work of the AONB Partnership aims to conserve and enhance this extraordinary place now and for the future.
Hedgelaying Competition
November 8th, 2018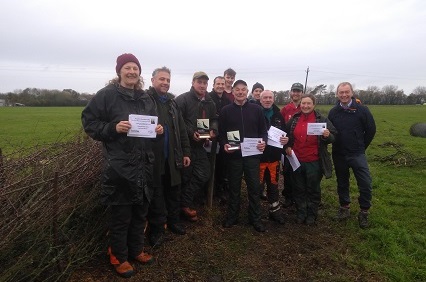 The first hedgelaying competition of the Lancashire and Westmorland Grand Prix took place in Arnside last weekend, organised by Arnside and Silverdale AONB. 16 competitors turned up bright and early, with a hawthorn and blackthorn hedge ahead of them to lay. A good day with the forecast rain holding off til 2pm and spirits kept high with platefuls of cake leftover from lunch. Tim Farron came along to present the prizes, thanks Tim! Well done to all of the competitors, you've produced a beautiful looking hedge, and it was really impressive to see the skills involved.
Particular congratulations to the category winners:
Starter: Pete
Junior: James Dodgson
Novice: James Yates-Bell
Open: John Gibson
Championship: Craig Proctor