News
Stunning limestone pavements, ancient woodlands, intimate orchards and meadows and an impressive coastline make Arnside & Silverdale Area of Outstanding Natural Beauty one of England's finest landscapes. The work of the AONB Partnership aims to conserve and enhance this extraordinary place now and for the future.
A great family day out!
October 4th, 2017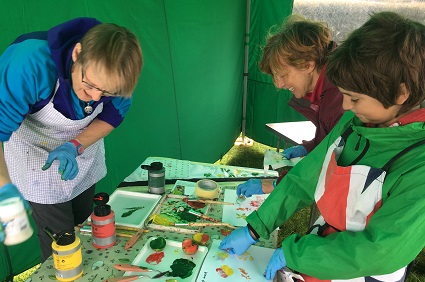 "A great family day out" "I love Apple Day" "A brilliant event"… Just some of the feedback we got from visitors to the AONB Apple Day on Saturday 30th September.
A huge thank you to Peter Goulder and Sheila Porter who once again generously hosted the event at their 250 year old traditional Westmorland orchard in Arnside
In spite of the unpredictable weather, over 800 visitors came through the gate and enjoyed browsing the colourful displays in the marquees; finding out all about orchards and the wildlife they support; getting advice on buying, planting and looking after fruit trees; tasting varieties of apple you don't find in the supermarket and Edi's delicious apple juice; learning about traditional coppice crafts …the list just goes on and on!
The local produce stalls proved popular; the woodturning, metal-forging and drystone walling demonstrations drew the crowds; and Peter's guided walk around the orchard was as popular as ever.
Younger visitors (many of whom had brought their parents along to see the colourful lanterns they had made at school with local artists Shane Johnstone & Anna Read ) were admirably entertained by basket weaving, making magic potions, apple-printing, riding the smoothie-bike, making conkers, besom-making and joining in traditional orchard games and the Apple Crumble Kitchen, a new attraction for 2017, was a great success with over 90 children making their own fruit crumble to take home.