Get Involved
Learn more about the landscape and heritage through walks, talks and other events. Volunteer to help at events, to carry out surveys or practical conservation tasks. Become a champion for the AONB by raising awareness in your own community and by supporting local projects.
'Dementia-friendly walks' – volunteer leaders needed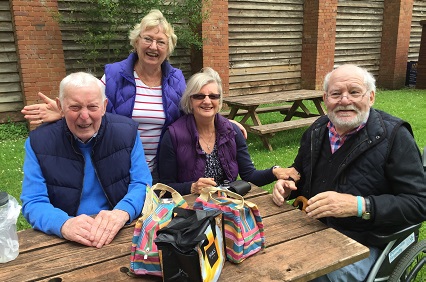 We are currently looking for volunteers to help us get an exciting new project off the ground.
The AONB Team is currently developing a project which will see a weekly programme of short guided walks for people living with dementia and their carers. We want them to be able to continue to enjoy our beautiful landscapes, wildlife and culture and to benefit from the support of walking with others.
But to get the project off the ground we need volunteers both to lead the walks and to act as support. We are now offering the chance to participate in a free training session on 29th March 2019 run by the charity Dementia Adventure. The course is tailored specifically to leading walks for people with dementia.
Each walk will last about 45 minutes and will finish with refreshments at a nearby café.
If this is something you think you'd like to get involved in, we'd love to hear from you. Simply complete our volunteer enquiry form and we will get in touch.
Photo: © Dementia Adventure