Get Involved
Learn more about the landscape and heritage through walks, talks and other events. Volunteer to help at events, to carry out surveys or practical conservation tasks. Become a champion for the AONB by raising awareness in your own community and by supporting local projects.
Current volunteer task programme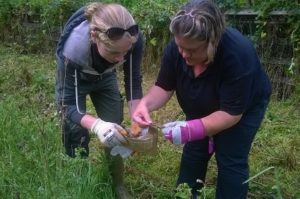 The AONB team organises and leads a programme of weekly practical tasks of habitat and access management, together with a monthly litter pick around the lanes of the AONB.
Tasks planned include:
13 Dec: Litter pick
18 Dec: grassland restoration in Trowbarrow LNR
8 Jan: woodland management in Trowbarrow LNR
10 Jan: Litter pick
15 Jan: scrub cutting on Warton Crag LNR
22 Jan: cutting back woody regrowth from bracken plot areas on Warton Crag LNR
Further details on these tasks and other volunteering opportunities can be found on the What's On page.
If you intend to come along, please ring the AONB Office to book a seat in the Land Rover and/or to check that the task is still running as planned as the programme is sometimes subject to change due to weather conditions or other circumstances.