Get Involved
Learn more about the landscape and heritage through walks, talks and other events. Volunteer to help at events, to carry out surveys or practical conservation tasks. Become a champion for the AONB by raising awareness in your own community and by supporting local projects.
AONB Apple Day 2019 – volunteers needed!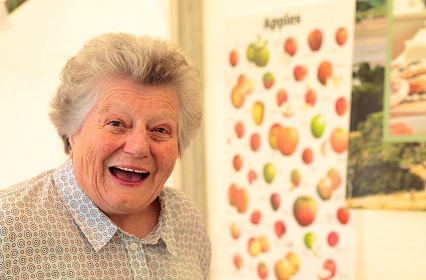 We are currently looking for enthusiastic volunteers to help organise and run the 2019 AONB Apple Day, a celebration of the wonderful landscapes and wildlife of the AONB, together with the fantastic range of local products and produce available.
Taking place on Saturday 28th September 2019, this will be our 8th Apple Day, a day which has quietly grown into something rather special and certainly a very popular event on the region's calendar, attracting around 1000 visitors.
But for the day to run smoothly, we need lots of helping hands. Below is a list of ways in which you can help, even if just for a couple of hours.
Before the event
Advertising – Distributing flyers and posters
Assisting the owners with orchard management/picking fruit
Office administration eg photocopying, laminating etc
Helping to erect gazebos/tents, litter collection points etc
Helping to set up stalls
Putting up signage directing visitors to the site and putting out traffic cones
On the day
Helping to set up the remaining stalls – 7.30am – 9.30am
Directing car parking
Meet & Greet on the welcome desk, collecting entrance fees and advising visitors
Helping out on some of the stalls eg weighing and bagging fruit
Photography – producing some high quality photographs which the AONB Partnership can then use in publications, on the website and in social media
Helping to supervise children's games
Helping to dismantle stalls, litter picking and general tidying up after the event 4pm – 6pm
Collecting traffic cones, removing direction signs and taking down banners
To become a 'Friends of Apple Day' volunteer, please register your details here, stating briefly how you would like to be involved.
If you would like to talk to someone for further advice and information, please ring the AONB office on 01524 761034