Discover
This extraordinary place is famous for its amazing wildlife, stunning scenery, and superb walks. From the seasonal abundance of stunning butterflies to the shining sands of Morecambe Bay, the area is simply awe-inspiring - full of natural spectacles and a surprise around every corner.
Warton Crag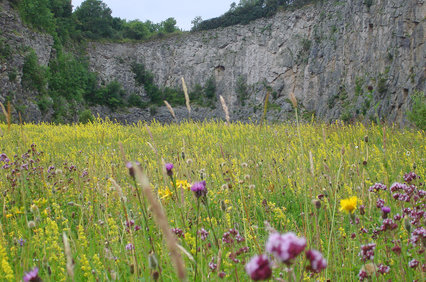 Warton Crag is a landmark site for the AONB, with the village of Warton nestling on its eastern margin. Only 1.5 miles from Carnforth Railway station, and with a good local bus service, the Crag is easily accessible by public transport.
It is a mixture of limestone grassland with scrub and woodland. The site is nationally important for butterflies and moths and many interesting plants can be found here. Peregrine Falcons regularly nest in the Main Quarry.
Click to download A Guide to Warton Crag Nature Reserves (3.1MB).
A great outdoor classroom for young and old to see and experience first hand the delights of nature and special local wildlife, the Local Nature Reserve part of the Crag is owned by Lancaster City Council and managed on their behalf by the Arnside & Silverdale AONB team. Click to download the current Warton Crag Quarry Management Plan August 2020(4.5MB).