News
Stunning limestone pavements, ancient woodlands, intimate orchards and meadows and an impressive coastline make Arnside & Silverdale Area of Outstanding Natural Beauty one of England's finest landscapes. The work of the AONB Partnership aims to conserve and enhance this extraordinary place now and for the future.
Congratulations to Rob!
March 28th, 2017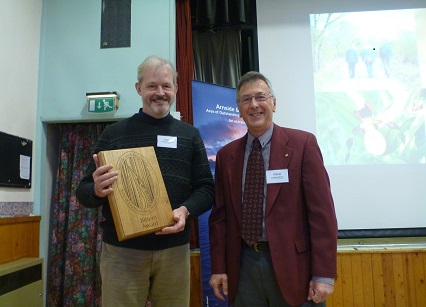 Many congratulations to Rob Petley-Jones, winner of the 2016 Bittern Award.
The Bittern Awards were launched in 2008 to recognise groups, organisations or individuals who have made an outstanding contribution to Arnside & Silverdale Area of Outstanding Natural Beauty.
Rob, pictured here receiving his award from Cllr Brian Meakin, Chair of the AONB Partnership, has managed Gait Barrows National Nature Reserve since 1992 and will retire from Natural England in July 2017.
In that time, Rob has developed, then shared his considerable habitat expertise, particularly around coppice management and butterfly conservation, to ensure that this special limestone landscape is managed in a way that conserves its iconic habitats and species.
Working with Kew Gardens, Rob has been instrumental in the success of the species recovery programme for the Lady's-slipper Orchid including enabling the public to see and experience these rare and beautiful flowers. He has also developed a successful volunteer programme which has enabled the local community to be involved with looking after and monitoring the reserve.