News
Stunning limestone pavements, ancient woodlands, intimate orchards and meadows and an impressive coastline make Arnside & Silverdale Area of Outstanding Natural Beauty one of England's finest landscapes. The work of the AONB Partnership aims to conserve and enhance this extraordinary place now and for the future.
Congratulations Feleena!
January 27th, 2020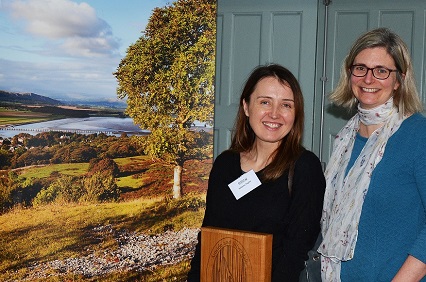 Many congratulations to Feleena Taylor (pictured here with Lucy Barron, AONB Manager) who was presented with the Bittern Award at our Conference last week. The Award is given annually to recognise a person or organisation who has made an outstanding contribution to Arnside & Silverdale AONB.
Feleena has been instrumental in setting up and leading a project which has seen a weekly programme of short guided walks for people living with dementia and their carers, offering them the opportunity to be able to continue to enjoy our beautiful landscapes, wildlife and culture and to benefit from the support of walking with others.
Her commitment, energy,enthusiasm and hard work have undoubtedly made the project a success! 
Photo: © Julie Wilcock