News
Stunning limestone pavements, ancient woodlands, intimate orchards and meadows and an impressive coastline make Arnside & Silverdale Area of Outstanding Natural Beauty one of England's finest landscapes. The work of the AONB Partnership aims to conserve and enhance this extraordinary place now and for the future.
Arnside & Silverdale win European Garden Award
September 10th, 2019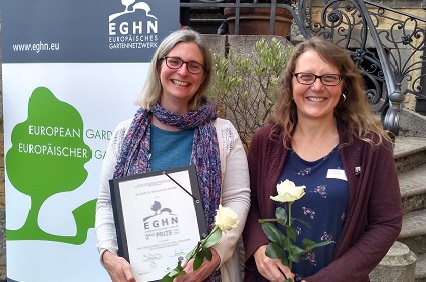 We are delighted that Arnside & Silverdale AONB has been awarded 2nd prize in the "Best Development of a Cultural Landscape of European Relevance" category at the European Garden Awards for our work to research and promote the cultural landscape of the AONB.
The Historic Designed Landscapes Project was initially commissioned by the AONB Partnership in 2013. With the arrival of the railway in the mid-19th century, many northern industrialists built properties here, with the area's distinctive limestone geology leading to some unique developments. Limestone was used as ornamental features in the gardens to create terraces, walks and viewing points.
There was great excitement when the research led to the discovery of a rare post-war garden by Ralph Hancock, who is more well-known for his work designing the roof gardens of the Rockefeller Center in New York.
More detailed research into some of the most important parks/gardens in the AONB was carried out in early 2015 and the final reports are being used to inform the conservation, restoration, enhancement and management of these special places. They are available on our website for use by partners, stakeholders and communities.
Many thanks to the European Garden Heritage Network for this honour.