News
Stunning limestone pavements, ancient woodlands, intimate orchards and meadows and an impressive coastline make Arnside & Silverdale Area of Outstanding Natural Beauty one of England's finest landscapes. The work of the AONB Partnership aims to conserve and enhance this extraordinary place now and for the future.
AONB Development Plan Document wins regional award
October 23rd, 2019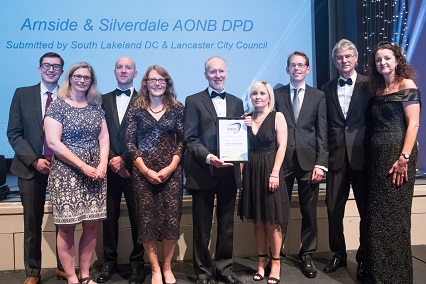 We're delighted that the Arnside & Silverdale AONB Development Plan Document was announced on Friday as 'Overall Winner' in the RTPI North West Planning Awards for Excellence 2019.
It is wonderful to receive this high level recognition for the plan, which is the first of its kind in the country and the result of close collaboration between Lancaster City Council, South Lakeland District Council and the AONB Partnership.
The comments from the RTPI judges highlighted the plan's positive approach to affordable housing provision and the Landscape Capacity approach to identifying potential development sites:
"This approach has helped the plan to achieve the delicate balance of preserving the natural beauty of the area, whilst providing for the specific housing needs of the community.  
The plan is an excellent example of joint working and positive planning, which has successfully addressed competing policy objectives at the national and local level.  It is an innovative and ground-breaking plan, which showcases a wide range of skills and the high quality of planning work involved in its preparation."
We're honoured to share in this success.  Many thanks to everyone involved.