News
Stunning limestone pavements, ancient woodlands, intimate orchards and meadows and an impressive coastline make Arnside & Silverdale Area of Outstanding Natural Beauty one of England's finest landscapes. The work of the AONB Partnership aims to conserve and enhance this extraordinary place now and for the future.
A date for your diary!
June 27th, 2017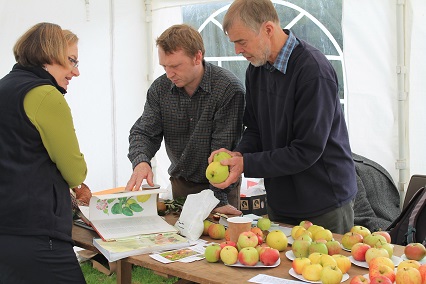 The biennial Arnside & Silverdale AONB Apple Day will this year take place on Saturday 30th September.
The event – generously hosted again by Peter Goulder & Sheila Porter at their 250 year old Westmorland orchard and paddock on Briery Bank in Arnside – is held to help celebrate the wonderful orchards of the AONB, their value in the landscape, as a wildlife habitat and to the local economy. This year, it will also be part of the much wider AONB WILD! project which will be aiming to help and encourage families and children to get out and enjoy the outdoors throughout the year.
A great day is planned – with lots of traditional orchard-themed games and activities for both young and old! We will have experts to talk about the bees, birds and little beasties that live and feed in our orchards and to give advice on apple varieties and the planting and maintaining of fruit trees. There will also be various demonstrations of traditional woodland crafts and lots of delicious orchard produce to taste and buy.
Click here to find out more!
We look forward to seeing you!