Get Involved
Learn more about the landscape and heritage through walks, talks and other events. Volunteer to help at events, to carry out surveys or practical conservation tasks. Become a champion for the AONB by raising awareness in your own community and by supporting local projects.
Walks, talks & exhibitions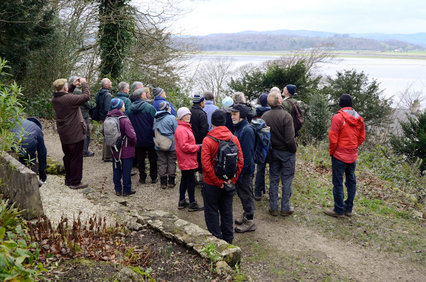 Whether you have lived in the AONB all your life or are just visiting, why not come along to our walks, talks and exhibitions to discover or learn something new about the wildlife, history and charm of this special landscape.
Most events are free to members of the Landscape Trust, but non-members are welcome for a nominal charge. The full programme of events for 2017, which runs from March to November, is available to download here. Walks book up very quickly, so please plan ahead.
Upcoming events:
Saturday 24 June – Sunday 25 June: As part of the Silverdale and Arnside Arts Trail weekend, the Trust will be hosting an exhibition, two guided walks and a lecture about tidal bores of the world.
The exhibition, 'Underwater Morecambe Bay by Gordon Fletcher', will be based at Arnside Cemetery Chapel and will run over both days. There will be one walk on Saturday, 'Rocky Secrets of Arnside Knott by Tim Tranter', and one on Sunday 'Flowers of Arnside Knott by Julie Clarke'. The lecture, 'Tidal Bores of the World by Antony Colas', will take place on Sunday evening in the Heron Theatre, Beetham. It is essential to book for the walks and tickets are required for the lecture. All are welcome to enjoy the free exhibition. Full details and booking forms are available below.
Uberash to the Rakes, Flowers of Lancelot Storth and Reserves Walks – Further details and booking form
Rocky Secrets of Arnside – Further details and booking form
Flowers of Arnside Knott – Further details and booking form
Tidal Bores of the World  – Further details
Telephone: 01524 761034