Get Involved
Learn more about the landscape and heritage through walks, talks and other events. Volunteer to help at events, to carry out surveys or practical conservation tasks. Become a champion for the AONB by raising awareness in your own community and by supporting local projects.
Walks, talks & exhibitions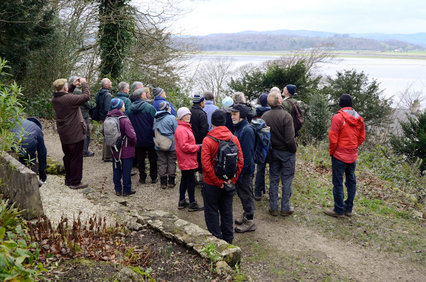 Whether you have lived in the AONB all your life or are just visiting, why not come along to our walks, talks and exhibitions to discover or learn something new about the wildlife, history and charm of this special landscape.
Most events are free to members of the Landscape Trust, but non-members are welcome for a nominal charge. The full programme of events for 2017, which runs from March to November, is available to download here. Walks book up very quickly, so please plan ahead.
Upcoming events:
A Haymaking Day at Teddy Heights, one of the Landscape Trust reserves. This will take place in early to mid August – a date will be fixed nearer the time depending on the weather.
Friday, Saturday and Sunday 15/16/17 September – Continuing our series of weekends exploring the villages of the AONB, this year we will be at Silverdale for lectures, slide shows and exhibitions at the Gaskell Hall. The weekend will also include walks, tours and demonstrations exploring the rocks, landscapes, flora, fauna and history of Silverdale village, coast and parish. Full details will be available soon.